We are very pleased to announce that the last article of the Phenix team – supported by the Michel Cremer Foundation – has just been published.
It is called « Cold atmospheric plasma differentially affects cell renewal and differentiation of stem cells and APC-deficient-derived tumor cells in intestinal organoids » and is now freely available HERE
It describes the effect of our Cold Atmospheric Plasma system on organoids, 3D self-renewing mouse intestinal cell cultures modeling the intestinal mucosa. They constitute a very accurate model to predict the treatment response in patients and it is their first reported use in plasma medicine, long overdue !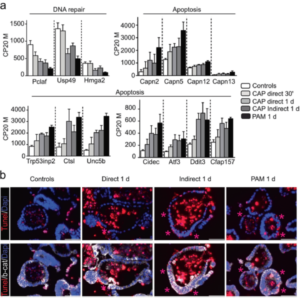 Thanks to relay and share this information via your channel and networks