Preliminary results of the first human uses of the device called MAGUS (MAgnetic Gastrointestinal Universal Septotome) were recently published in the journal  ENDOSCOPY 
This device consists of a pair of magnets and a self-retractable wire that allows to treat diverticulum, a rare disease,  with a non-invasive procedure via natural pathways.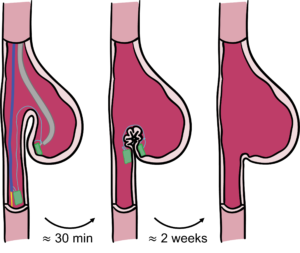 By applying constant pressure to the treated tissue, the medical device can gradually cut the mucous membrane of the gastrointestinal tract ("sac") of the esophagus to allow better "drainage" of the esophagus (see figure).
These initial data suggest that the device is effective, safe and minimally invasive.
More infos over the MAGUS project : : HERE
Thanks to relay and share this information via your channel and networks