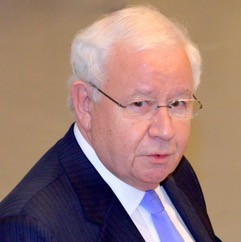 Baron Robert Tollet, was born in 1946, has a bachelor's degree in economics and econometrics (ULB).
At first as scientific expert at the Federal Planning Office, he used to be Chairman of the Central Council of the Economy, a body that brings together Belgian employers and trade-unions, since 1988. He is also the head of the Federal Investment and Investment Corporation (SFPI).
An art lover, this led him to chair the patronage committee of the Walloon Heritage Institute.
Chairman of the Board of Management at the Erasmus Hospital since 1992 and Chairman of the Board of Directors of the Jules Bordet Institute, he became Chairman of the Board of Directors of the ULB from 1995 to 2003.
In 1999, King Albert II of Belgium ennobled him to the rank of Baron.