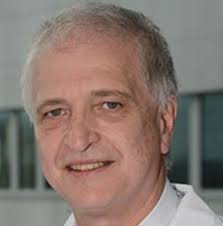 Professor Jacques DEVIERE was born on April 2, 1958 in Charleroi
After graduating at ULB with a doctorate in medicine in 1983, he specializes focusing in gastroenterology under the direction of Professor Michel CREMER, he obtained his diploma in 1988. Then, he obtained the ULB's graduate degree in 1991 by defending a thesis entitled "Interleukin 6 and the Tumor Necrosis Factor in Alcoholic Hepatopathy".
In 1998, he becomes head of the department of gastroenterology, hepato-pancreatology and digestive oncology at the University Clinics of Brussels (Erasmus) and lecturer at the ULB. In 2011 he becomes full clinical professor at ULB.
His research topics include the pathophysiology of liver and pancreatic diseases and translational research in the field of digestive endoscopy. In 2013, he authored 421 publications (H Index 67).
He used to be General Secretary of the Royal Belgian Society of Gastroenterology from 1996 to 2001 and President of the European Society of Gastrointestinal Endoscopy from 2006 to 2008. He is now a member of the Royal Academy of Medicine since 2012.