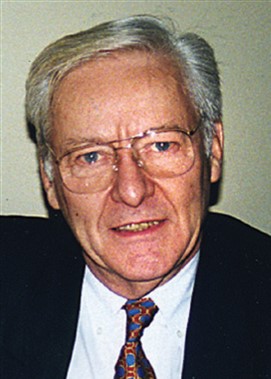 A VALUABLE SUPPORT FOR THE FORMATION
A foundation on the name of Michel Cremer was just founded as a beautiful tribute to those who for years, until his retirement in 1998, was the head of the department of gastroenterology and hepato-pancreatology at the ULB Erasmus hospital.  The Foundation's aim is to develop education, research and clinical quality in gastroenterology, with particular attention to endotherapy.  Professor Michel Cremer died a year ago (on 25 March 2009) at the age of 74.  He has left traces with a whole generation of gastroenterologists he has trained.  Graduated from the ULB in 1958 – when Hirchovitz performed the first flexible endoscopy – Michel Cremer began his career as an internist in Brugmann, first under the leadership of Pr Lambert, then Jean-Jacques Desneux, pioneer of semi-rigid endoscopy and treatment of digestive hemorrhages. '' we don't realize how many pre-exits have been booked in 50 years''. Being able to locate the place of the digestif before opening the abdomen was something very special then, explains Pr Jacques Devière.  He is head of the department of gastroenterology of the Erasmus hospital and has had Michel Cremer as master.  Flexible endoscopy, then still at a pril stage, was performed with semi-rigid systems introduced in the ''slokum''.  Following the death of Robert Desneux by an accident, Michel Cremer is taking his opportunity to play a role in this evolution.  He quickly became one of the worldwide pioneers in the endoscopy of galpancreas or cholangiopancreatography.  He is one of the first to have performed the opacification of the galway.  This was a revolution in treating these pathologies.  At that time, that was only done by a few particularly talented people, says Pr Devière.  For example, the gals, which were responsible for jaundice and fever, caused a death rate of about 40% in the 60s because their treatment was surgical.  They waited when it passed.  This happened in dramatic circumstances…. Today, mortality is less than 2%. One treats the chronic pancreatitis and the gals.  Canter tumors are taken and pre-operative drainage is done.  One drains through the stomach all the accumulations that are around…  
Michel Cremer also performed the first therapeutic treatment in Belgium in January 1974 – a bile sfincterotomy.  This happened only 4 months after the first worldwide premiere performed by a German and Japanese.  His school of endoscopy in Brugmann, already very well known, gained even greater reputation.  Then, from the beginning of the Erasmus Hospital Foundation in 1977, Michel Cremer founded the medical surgical department of gastroenterology, together with his right hand Jean-Pierre Lambilliote, head of the gastro in Brugmann.  It was then quite revolutionary to have surgeons and doctors work together to treat the same patients.  Michel Cremer decided to move his school for endoscopy from Brugmann to Erasmus, where there was a waiting service, a service of intensive care and a service of gastroenterology.
MEDICAL SURGICAL COOPERATION
Some forty doctors work today in the department, one of the most important in Belgium, outside the KUL. Together they manage the services endoscopy, hepatology of digestive surgery and gastroenterology. ''one of the details of the development of the service has also been to be the first to treat endoscopic the pancreas diseases on a world scale, Jacques Devière continues. Thanks to Michel Cremer, the first pancreas scfincterotomies were carried out in 1976, but also the first drainage of cysts through the digestive tract wall, as early as 1980. We had to have courage to carry out this operation because we did not have the same equipment then. As a result, our School has remained a worldwide reference center for the treatment of chronic pancreatitis, inflammatory and scar-forming disease of the pancreas. Surgical and medical or endoscopic treatments exist for this disease. In the area of endoscopic treatment, thanks to Michel Cremer, we have been the pioneers. In addition, Michel Cremer has played it smart by opening the service for other disciplines (digestive oncology, hepathology, nutrition) that are important such as endoscopy.'' He also helped me to set up the research laboratory for gastroenterology. This laboratory is linked to the services of cultaires. It is a laboratory for fundamental and transnationality-free research, in all confidence tells its successor as head of the department of gastroenterology and hepato-pancreatology of the University Hospital of the ULB, at the Erasmus Campus. After his retirement, Michel Cremer voluntarily continued his passion for a few years, which he donated a painting at the time of his departure. His death last year left a huge void with his friends and also caused a lot of emotion to his employees and pupils from all over the world. ''we decided to set up a Foundation on its behalf because there were people at international level who wanted to give some money. He had created "live" education and courses, which we organize every June, with all the caution and ethics associated with the patient, on the occasion of our ''gastro-enterology and endotherapy'' congress, which hosts nearly 1,000 participants from around the world. The foundation of this Foundation was therefore the will of the whole service, which was strongly attached to him.
The aim of this Foundation is to develop education, research and clinical quality in gastroenterology, with particular attention to endotherapy. This broad objective makes it possible to award scholarships to junior doctors – apparently numerous to specialize in our business, to award some prize for research work and to enter into the operating and personnel costs. In the long term, the Foundation could help to develop an educational center on gastroenterology and endotherapy. Initially, these courses could be carried out in premises available in the hospital. But why should we not be able to develop a structure, with a reasonable dimension, which would be of primary importance for this type of education in the medium term? Such a structure could also be used to evaluate new techniques and theoretical training, and even pre-clinical evaluations of new treatments. Something his pupil, Pr Jacques Devière, dreams of.
Prepared by : " Thierry Goorden "