Visit of the exhibition on Marcel broodthaers January 23, 2022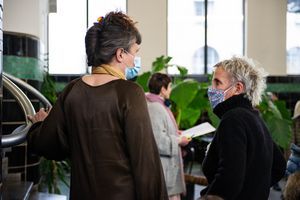 Many thanks to the Wiels Museum and to our guide Nathalie Desmaele, for the presentation of  Marcel Broodthaers works: creativity and art as that of the art of medicine or the art of the engineer are common denominators of our respective work.
World-knowned Belgian artist Marcel Broodthaers (1924-1976), is interested in the relationship between the art and society. He develops with humour the contradictory relationship between language and image, while drawing inspiration from René Magritte and Mallarmé.
Below you will find some memories of this event
Some memories of the visit ...

Thank you for your precious support and help

wE STILL NEED YOUR help TO REALIZE OUR PROJECTS

Thanks to relay and share this information via your channel and networks