PhD Thesis defense of Adrien Debelle  July 1st 2021
 "Minimally Invasive Implantable Gastric Stimulator to Overcome Obesity" 
This presenation is available HIER
Promotor: Prof. Antoine Nonclercq
Departement : Beams (Bio, Electro And Mechanical Systems), Ecole polytechnique de Bruxelles
In this research, Adrien Debelle developed a new concept of stimulator anchorage and its implantation procedure, with the aim of finding a minimally invasive solution for gastric electrostimulation.
The key parameters of the device governing the stability of the anchorage were evaluated on a traction test bench, and optimal values were derived.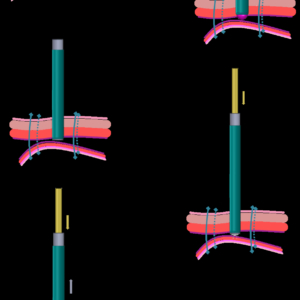 Bench characterization and in-vivo experiments on animal models allow us to prove that our system is promising in terms of 
implantation

stability (the anchor resists a force of up to 0.81 N),

durability (the anchor remains attached to the stomach for more than a year) and

invasivity of the procedure (the diameter of the only percutaneous access is less than 12 mm).
In addition, the proposed design could have clinical applications for other hollow organs, such as the bladder.; 
The article is available   HERE
Thanks to disseminate this information via your channels and social networks